Written by Nabila Hilmi
Monday, 04 April 2011 08:03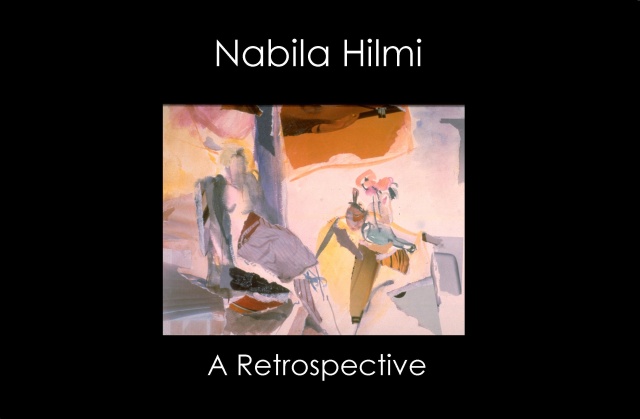 A Retrospective
                                artwork by Nabila Hilmi

                               17 January - 6 March 2014

 Nabila Hilmi, after receiving two law degrees,  pursued studies in fine arts with a BA degree from Beirut University College, then studied at the Art Students league in New York and  completed a three-year program in the philosophy of art and art appreciation at the Barnes Foundation in Merion PA. Her work was exhibited in national and international venues including the groundbreaking shows Forces of Change: Artists of the Arab World at the Museum of Women in the Arts in Washington, DC and In/Visible at the inauguration of the Arab American National Museum. Her work is in the Jordan National Gallery in Amman, and Darat al Funun, The Khalid Shoman Foundation, Amman. She was represented by the Foundry Gallery in Washington DC. She is featured in the Encyclopedia of Arab American Artists: Artists of the American Mosaic.  (d. 2011)
http://www.thejerusalemfund.org/ht/d/sp/i/225/pid/225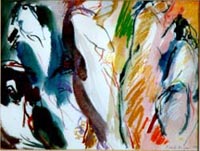 The Figure and its interaction with the space around it is the focus of Ms. Hilmi's interest.
Color plays a major role in reinforcing the mood evoked by the relationship of form and line.
Soft, muted tones put side by side with dynamic colored rhythms make opposites flow and
connect, creating a harmonious, integrated world.
http://www.daratalfunun.org/main/resourc/exhibit/hilmi/hilmi.htm

universes-in-universe.org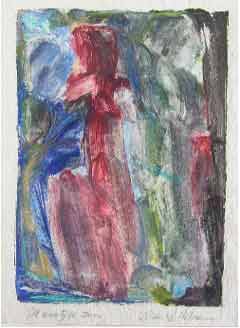 "Through the years, I have come to realize that my work reflects the many places I had lived in and what these places mean to me. I paint my world, a world tamed by me to embrace my visual memories, past experiences and aspirations.  I paint people's motion in time and space, their constant emotional migration and their search for close, secure relationships within loose boundaries and their own free space." Nabila Hilmi
Plastically, the line unites and separates, shaping the interacting forms and activating the negative space.  Color is instrumental in connecting the forms, in building the mood and the feeling of life flowing, ever changing, ever the same.
http://www.nabilahilmi.com/Nabila_Hilmi/about_me_1.html
"Nabila Hilmi est née à Jérusalem, elle a grandi en Égypte, au Liban et en Jordanie. 
Dans son œuvre, Nabila Hilmi cherche à tisser des liens entre l'Est et l'Ouest, entre les deux mondes différents où elle a vécu et qu'elle connaît intimement.
Le temps, l'espace et la lumière constituent les trois éléments fondamentaux de sa propre existence. Le temps et l'espace représentent l'essence même de la vie individuelle et sociale, aussi bien que la communication, l'intégration et l'évolution d'un être et de son entourage; tandis que la lumière représente l'espoir et la foi dans l'humain."Extraits du site:
http://www.babelmed.net/cultura-e-societa/66-palestine/1323-les-uvres-de-l-artiste-palestinienne-nabila-hilmi.html
Notes by A. Elsaleh: Her grand father is:
أحمد حلمي عبد الباقي
http://www.mlfcham.com/index.php?option=com_content&view=article&id=1488:-l-rlalbanais-qui-est-devenu-le-president-du-premier-gouvernement-palestinien-le-25-sep1948&catid=296:palestine&Itemid=2014
Last Updated on Monday, 24 February 2014 10:44